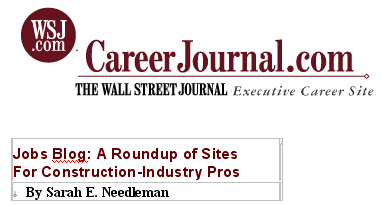 Looking to expand your online job hunt beyond the big boards? Web sites and email lists dedicated to postings in specific fields can supplement your search. Here's a look at niche job boards and email newsletters from around the Web. (Some links may require registration or subscriptions.)
Climbing the corporate ladder in the construction industry? Numerous job boards are looking to help you find your next step up.
To find senior-level construction jobs, visit the Web site for retained-search firm Hornberger Management Co.,HMC.com. Up to two new jobs are added at the beginning of each month, and the site averages about 15 jobs. They pay $200,000 to $1 million in annual salary, says Frederick Hornberger, president of the Wilmington, Del.-based recruiter. Positions frequently listed are chief executive officer, chief financial officer and president. Jobs are from the firm's clients, whose names are not disclosed. They include general contractors, specialty contractors, facility owners and real-estate developers. Submit your resume to be considered for confidential search assignments that aren't posted.
Construction Professionals' Salaries
For a snapshot of compensation for construction professionals, see CareerJournal.com's Pay Table.
— September 30, 2005
— Ms. Needleman is associate editor at CareerJournal.com.