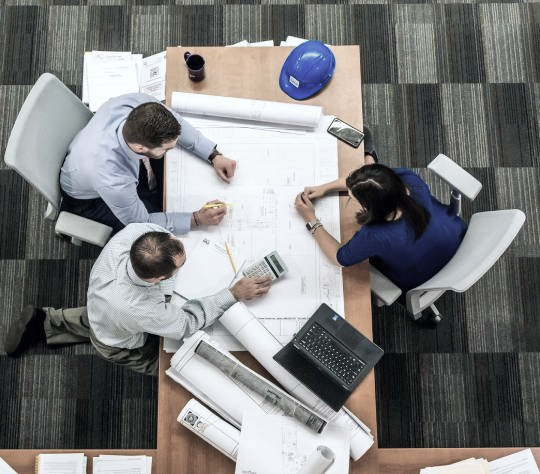 Retain World-Class Talent in Your Construction Team
Building a world-class team is a challenging task in the unique field of construction. Most construction companies struggle where to look for experienced and trained executives to manage their operations, and navigate them successfully into the future. Successful construction employers recognize human resources as their most valuable resource, and having the right executive talent can make the difference between an employer's success or failure. As experienced construction management recruiters, we help you meet executive talent that is gainfully employed, and passively job hunting who may only be open to confidential, third-party representation. By utilizing a premium construction recruitment firm like HMC, we will produce a better and larger talent pool of candidates to select from that fit your hiring needs and expectations.
As an international construction executive recruitment firm with over 40 years in business, we take pride in representing construction employers from diverse project portfolios from all over the world. In fact we have placed more construction presidents within the United States than any other recruitment firm. As expert networkers, we understand how to develop confidential relationships with top talent so they trust our representation. We can do this because our construction recruiters are seasoned recruiters with construction backgrounds who have a deep understanding of the construction industry and the top construction firms who are leading the market. We also have a premier construction research team, which produces surveys and reports on construction executive compensation, retention and employment trends. In addition, we conduct seminars and participate at construction conferences to help employers retain and recruit top talent.
Construction Recruiters and Executive Search Firm
Our construction executive recruitment services are exclusively focused on construction industry employers, which include construction managers, general contractors, specialty contractors, design-build firms, EPC engineering contractors, as well as facility owners and real estate developers who employ construction executive talent.
Our clients work within all major construction markets, including:
Commercial and corporate offices with high-rise, mid-rise, and low-rise buildings
Shopping centers, strip malls, and other retail buildings
Residential buildings such as apartments, condominiums, student housing, home building, senior living, and multifamily
Healthcare industries from medical offices to hospitals
Educational sectors from schools, colleges, universities, and everything
Sports and entertainment related-constructions like theme parks, stadiums, cultural, and performing arts.
Prisons, jails, courthouses, and all justice and correctional facilities
Paving roads, highways, bridges, aviation, rail and everything in the transportation industry
Industrial facilities such as chemical, petroleum, power, water, sewer plants, and pharmaceutical
Churches, worship centers, and all religious buildings
Laboratories, data centers, scientific, clean rooms, and all light industrial buildings
Serving government sectors from federal and state to military and municipal
Luxury resorts, hotels, gaming, and entire hospitality construction
Specializing exclusively in the highest levels of construction recruiting, We provide the ultimate recruitment service to meet your construction executive search needs.