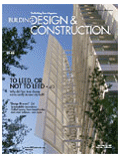 Survey reports high retention of construction industry CEOs
December 9, 2005
Building Design and Construction
Each year, Hornberger Management Company, performs an executive retention survey to determine the "Top 10 Reasons Construction Executives Leave Their Job." The survey involves telephone and personal interviews with over one thousand construction executives and CEO's from general building contractors, heavy contractors, specialty contractors, design builders, residential contractors and construction managers (referred to in this survey as contractors) operating within the United States of America. The survey also produces a report listing hundreds of CEO and Executive Insights that are collected from the interviews and online survey forms. This year's survey concluded on January 11, 2005.
Construction executive retention was at its highest level in over a decade with only 29% of executives choosing to change jobs in 2004. Although most construction CEOs acknowledge the importance in having an executive retention strategy, only 23% claim to actually have one. The primary reasons for the low executive turnover according to the executives interviewed were not due to the CEO's efforts, but were due to the economic and political uncertainty of 2004.
Trailing a good year for executive retention will be one of the highest years of executive turnover. Even though 3 out of 4 executives believe that their current employer will adjust their compensation upwardly in 2005 to fall in line with the improving economy, 36% of construction executives are planning to change jobs in 2005. Many executives are looking for increased compensation and career advancement opportunity due to the restrictions levied upon them during the recent flat and negative growth years of 2002, 2003 and 2004.
Change is also on the minds of CEOs. Many CEOs are planning on taking a harder look at their current executives to determine if they are the best candidates to lead their firms through the expected growth opportunities of 2005. 17% of CEO's stated they were planning to increase their executive workforce in 2005, up from 11% in 2004. And 72% indicated they intended to increase their HR budgets for 2005.
Copyright 2005, Reed Business Information, a division of Reed Elsevier Inc. All Rights Reserved.