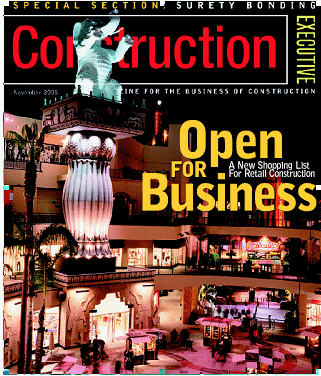 WORKFORCE DEVELOPMENT
By Frederick Hornberger

November, 2005
Construction Executive Magazine- Associated Builders & Contractors (ABC)
Each year Hornberger Management Company performs an executive retention survey to determine the top reasons construction executives leave their jobs. The survey involves telephone and personal interviews with more than 1,000 construction executives and CEOs of general, heavy, specialty and design-build contractors and construction managers operating within the United States. Executives (top managers who report directly to the CEO and/or president) were asked to prioritize the reasons they would leave or stay with their current employers, and what changes they would like made to their employers' retention practices. CEOs were asked for insights on employment, recruitment and retention practices.
According to the 2005 survey, construction executive retention is at its highest level in more than a decade with only 29 percent of executives choosing to change jobs in 2004. The primary reason for the low executive turnover, according to the executives interviewed, was the economic and political uncertainty of 2004.
Unfortunately, trailing a good year for executive retention may be one of the worst years of executive turnover. Most construction executives surveyed considered the last few years a time of career stagnation, and are looking to 2005 and 2006 as years for career advancement.
Many needed to work harder with less staff and support, while receiving little or no pay increase or job advancement. Sixty-one percent stated they were dissatisfied with their internal opportunities for career advancement, and 64 percent were dissatisfied with their current pay.
Even though three out of four executives believed that their current employer would adjust their compensation upwardly this year to fall in line with the improving economy, 36 percent of construction executives said they were planning to change jobs in the near future. Most of these executives are looking for higher compensation and career advancement opportunities due to the restrictions brought on during the recent flat and negative growth years of 2002, 2003 and 2004
Hornberger is president of Hornberger Management Company of Wilmington, Delaware, an executive search firm specializing in senior management recruitment in construction.